MISSION BEACH JET SKI HIRE
We are the only people in Mission Beach to offer both Boat Hire and Jet Skis ! These are all launched from our purpose built facility right on the beach !  Imagine, cruising out to the beautiful islands we are literally on the doorstep of Dunk Island, Bederra Island.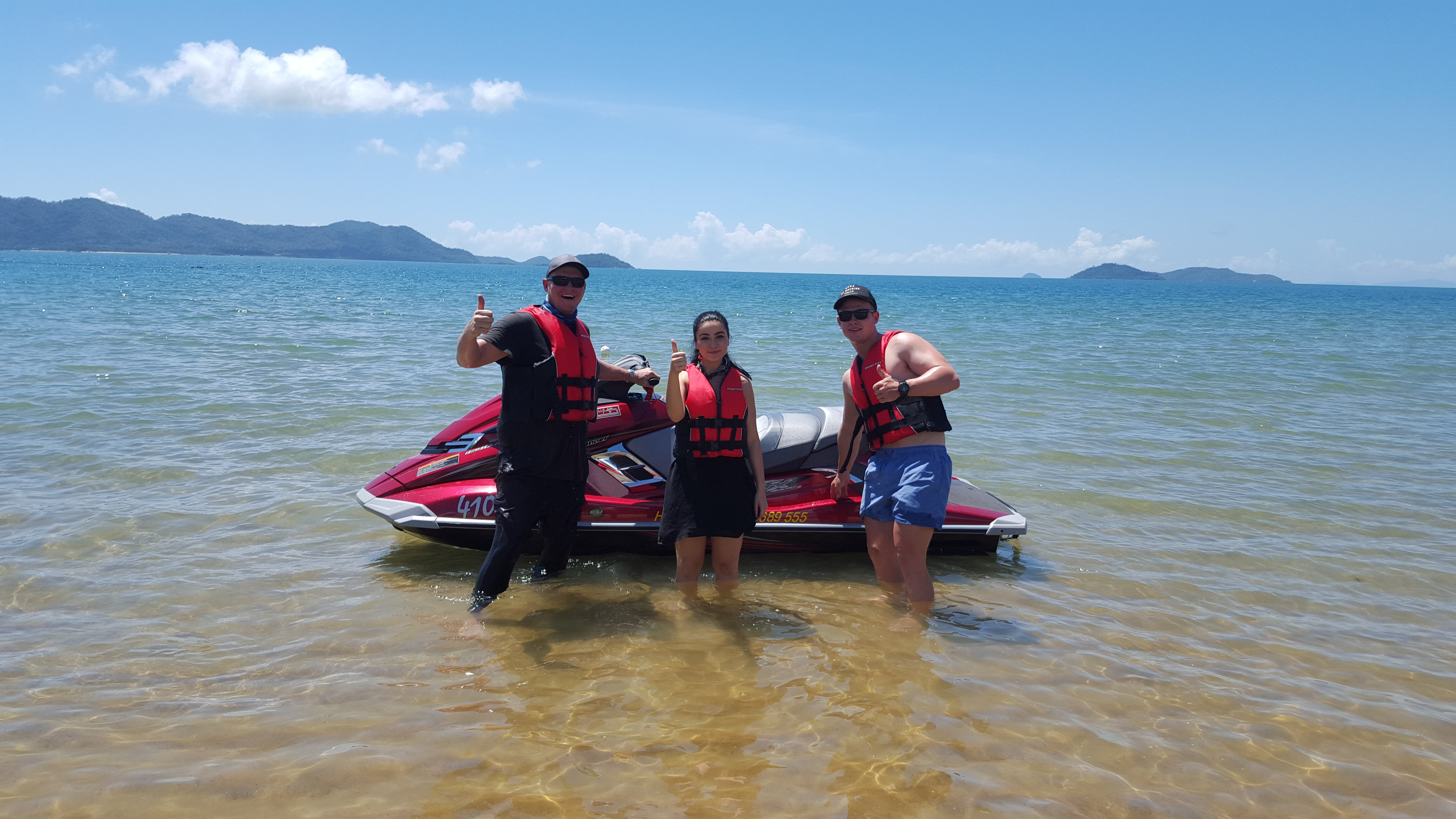 56bff39a-194e-482f-b80a-db7143e3c6f3
16cdc100-2cdf-4629-b014-e840b7529101
OPTIONS/TOURS AND PRICE-LIST
FOUR ISLAND SAFARI (150 MINUTES 2.5 HRS)  – $600.00
On this Island Safari your tour guide will take you on an adventure to 4 Islands within the group of Family Islands. You will get to circumnavigate Dunk, Bedarra, Wheeler and Thorpe Islands where your tour guide will inform you briefly about the history of each Island. There will be many hidden, tranquil beaches to see and explore along with breathtaking Island landscape views. This tour provides the best chance to see dolphins, turtles, dugongs and other marine life. Explore the Islands all from the seat of your ski.
DUNK ISLAND TOUR (90 MINUTES 1.5HR)  – $350.00
This Guided Jet Ski Tour takes you all the way around Dunk Island and includes a fun 90 minute tour with a brief insight into the history of Dunk Island and highlights of its natural features. Plenty of free ride time! As well as the Safari, this tour also provides the best chance to see dolphins, turtles, dugongs and other marine life.
FREE STYLE RIDE TO DUNK (50 MINUTE) – $ 220.00                                 
As the name suggests this option takes you across to Dunk Island where you can make the most of the flat sheltered waters where riders can thrill themselves by putting their skis through the paces or simply cruise around and enjoy the scenery and the beautiful backdrop of Dunk and Purtaboi Islands.
ABOUT OUR JET SKI'S
Our ski's are the latest Yamaha FXHO design. They feature cruise control, reverse and neutral gear option and a tilt trim to help you ride through the waves with ease. Our ski's are very powerful but also very stable and most importantly they are extremely comfortable and easy to ride.
CAPTURE THE ADRENALIN – $50.00   Hire an action waterproof HD camera and share your experience and action shots with friends. Camera equipment includes a head mount, chest mount, wrist mount and a hand held mount. At the end of your Jet Ski adventure the SD card is yours to take home.
Age Limits Apply 
To operate a jet ski on your own you need to be 16 years of age and over. Riders 12 to 15 years of age can operate a jet ski provided an adult accompanies them. Younger children can ride as passengers.
Further Information
We have allocated hire times.
All prices quoted are per Jet Ski and not per person.
An Environmental management charge of $3.25 per person applies as required by Great Barrier Reef Marine Parks Authority. This fee is additional to the Jet Ski Hire rate.
Fuel is included in the hire charges
All our crafts are launched directly on the beach from our dedicated facility
Phone Mission Beach Boat Hire to make a booking +61 (0) 438 689 555 or contact us via email